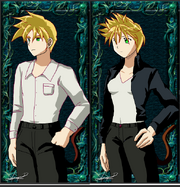 Though born of both Saiyan and Human blood, Halfbreeds are a unique race of beings, possessing characteristics unknown to either side of their heritage. Outwardly, they appear Saiyan, born with tails and the ability to transform into the Oozaru, and even the Super Saiyan. However, this potential is widely believed to be weakened by their human blood, as a halfbreed has never been known to transform into the Super Saiyan 4.
Halfbreeds are perhaps most widely known for their amazing ability to learn. Whether it be from a textbook or a battle, Halfbreeds will quickly adapt and excel at whatever they apply themselves to.
Racial powerlevel gains modifier is 350%
Physiology
Edit
As Humans and Saiyans are already very similar in appearance, at a glance Halfbreeds can be difficult to distinguish. They are born with Saiyan tails but their hair and eye color may vary with that of their Human parent.
The first Halfbreed was Gohan, born shortly after the end of Dragonball.
Roleplaying
Edit
With the restoration of Planet Vegeta and the Saiyan race, more Humans and Saiyans are free to interact. While this makes a convoluted backstory unnecessary, it means most Halfbreeds are going to be 19 years old or younger.
MSSJ requires Mystic to be learned before it can be used.
Basic Skills
Edit
---------------------------------------------------------------------
             Name                   PL Needed         Max
---------------------------------------------------------------------
              focus ki                     250        100%
                   aid                   1,000         95%
                  kick                   5,000         95%
                 punch                   5,000         95%
      aggressive style                  15,000         95%
                 block                  15,000         95%
       defensive style                  15,000         95%
            zanzoken 1                  50,000        100%
             axehandle                  75,000         95%
         berserk style                 100,000         95%
                 dodge                 100,000         95%
         evasive style                 100,000         95%
              meditate                 100,000         95%
                  skin                 250,000         95%
             charge L1                 500,000        100%
             charge L2               1,000,000        100%
            zanzoken 2               1,000,000        100%
         second attack                2,000,000        95%
                   dcd                2,500,000        95%
             charge L3               10,000,000       100%
            zanzoken 3               25,000,000       100%
             charge L4               50,000,000       100%
          third attack              100,000,000        85%
            kitransfer            1,500,000,000       100%
         fourth attack           15,000,000,000        75%

Racial Abilities
Edit
---------------------------------------------------------------------
             Name                   PL Needed         Max
---------------------------------------------------------------------
    oozaru mouth cannon                     100         95%
      near death gains                   5,000         30%
           energy ball                  40,000         95%
                   fly                  50,000         95%
               masenko                 100,000         95%
              suppress                 250,000        100%
          scatter shot                 500,000         95%
               kaioken               1,000,000         95%
            kamehameha               1,000,000         95%
                 sense               1,000,000         95%
                  ssj1               8,000,000        100%
      destructive wave              10,000,000         95%
                 ussj1              20,000,000        100%
  instant transmission              25,000,000         95%
                 ussj2              40,000,000        100%
                  ssj2              50,000,000        100%
        burning attack             100,000,000         95%
                  ssj3             500,000,000        100%
           aura shield             800,000,000         95%
             auralight           1,500,000,000         95%
          double helix           2,000,000,000         95%
      finishing buster           2,000,000,000         95%
            split-form           2,000,000,000         95%
      super kamehameha           5,000,000,000         95%
         burning-slash          10,000,000,000         95%
        enhanced sense          10,000,000,000         95%
          sauzer blade          10,000,000,000         95%
          customattack          50,000,000,000         95%
       warp kamehameha         350,000,000,000         95%
                  mssj       1,000,000,000,000        100%
  one handed kamehameh       1,000,000,000,000         95%
          release rage       1,000,000,000,000         95%