Race No Longer Available Edit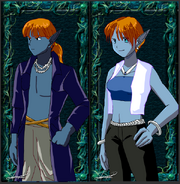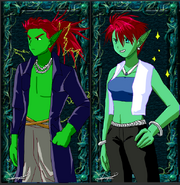 The Hera-jin, also known as the Bo-jin, are a race that we typically see as tall humanoids with green or blue skin and bright orange hair. The race is represented in the series by the characters Bo-jack and his Galaxy Soldiers.
Some members of this race have shown the ability to transform in a manner similar to the Super Saiyan transformations. This change causes them to grow larger and more muscular, dramatically increasing their power. In this form their hair turns red and their skin lime green.
Racial powerlevel gains modifier is 310%
Physiology
Edit
Roleplaying
Edit
Basic Skills
Edit
-------------------------------------------------------------
             Name                   PL Needed          Max
-------------------------------------------------------------
              focus ki                     250       100%
                  kick                   5,000       95%
                 punch                   5,000       95%
      aggressive style                  15,000       95%
                 block                  15,000       95%
       defensive style                  15,000       95%
            zanzoken 1                  50,000       100%
             axehandle                  75,000       95%
         berserk style                 100,000       95%
                 dodge                 100,000       95%
         evasive style                 100,000       95%
              meditate                 100,000       95%
                  skin                 250,000       95%
             charge L1                 500,000       100%
        wolf fang fist                 500,000       95%
             charge L2               1,000,000       100%
            zanzoken 2               1,000,000       100%
         second attack               2,000,000       95%
                   dcd               2,500,000       95%
             charge L3              10,000,000       100%
            zanzoken 3              25,000,000       100%
             charge L4              50,000,000       100%
            doublekick             100,000,000       95%
          third attack             100,000,000       85%
            kitransfer           1,500,000,000       100%
         fourth attack          15,000,000,000       75%

Racial Skills
Edit
-------------------------------------------------------------
             Name                   PL Needed          Max
-------------------------------------------------------------
           energy ball                  40,000       95%
                   fly                  50,000       95%
              suppress                 250,000       100%
          scatter shot                 500,000       95%
                 sense               1,000,000       95%
            energy-web               5,000,000       95%
              bo-jin 1               8,000,000       100%
  instant transmission              25,000,000       95%
              bo-jin 2              50,000,000       100%
     destructive blast              75,000,000       95%
      flame finger ray             400,000,000       95%
            aftershock             500,000,000       95%
                 honoo             500,000,000       95%
           aura shield             800,000,000       95%
              bo-jin 3           1,000,000,000       100%
             auralight           1,500,000,000       95%
          flamethrower           2,000,000,000       95%
            multi disk           2,000,000,000       95%
            multi-kick           2,000,000,000       95%
           energy ring           2,500,000,000       50%
        enhanced sense          10,000,000,000       95%
          sauzer blade          10,000,000,000       95%
          customattack          50,000,000,000       95%
          phantom fist         200,000,000,000       95%